Judy_Simon, group leader and Heisenberg Fellow, is interested in linking the competitive outcomes of plant interactions to the underlying physiological processes and mechanisms, with a focus on nitrogen, including different scales, from the individual whole plant level via plant communities to the entire ecosystem.
Tamalika Chakraborty has received a Bridge Scholarship for PostDocs working on the question whether drought-driven tree mortality is diminished with increasing tree species diversity.
Andrea Bueno is a PhD candidate interested in the competition for nitrogen between native and invasive woody species and how these interactions shifts with limited nitrogen supply or drought.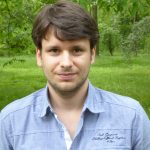 Robert Reuter is a PhD candidate working in the project "Consequences of competition and abiotic stress on the acquisition and internal allocation of nitrogen in temperate woody species".
Tom Lachaise is a PhD candidate in the Ecology Group, working in a joint project on belowground functional traits of plants as drivers of biodiversity and ecosystem functions in the framework of the Biodiversity Exploratories.
Student / research assistants:
Sarah Stahl
Aileen Trost
Sophie Mast
Leon Franke
Liridon Hoxha
Donard Gezi
Franziska Spanner